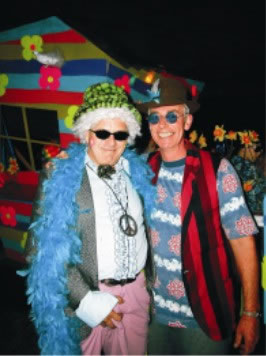 Johnny & Steve at this years Carnival
Work is a bit thin on the ground at the moment. Buying New Furniture is low priority. Food & clothing are the reality and when I read in last weeks papers that 22 'Suitcase Nukes' have vanished, presumed sold to AQ it's not surprising that the bunker mentality is taking a grip. If it's not terrorism, it's accounting fraud, dodgy pensions and the rest. What I learnt in the last recession of 90/91, was to keep small & flexible and thank God that is the shape we are in.
The Oracle has been incredibly tight with Martyn just taking it by 3 points. Lee had a great early run but faded fast after his 'kiss of death' bet that Man. City would finish in the top 6.
Charlie & I are off to see Swindon on Saturday & Eng. vs The Socceroos in Feb. If Swindon don't see their way clear soon, we are all thinking of a full desertion and becoming Reading Supporters. If you want to sus out how to play 'The Oracle' please email me.
Happy New Year & give the turkey a good stuffing!