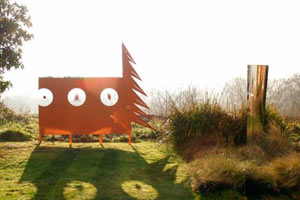 LBD/6* A Bizarre Christmas Tree
The New Year has brought in some changes in the workshop. Lee has left to set up on his own and will be replaced by a new casemaker. Tim has also started as a new apprentice. We have nearly completed the angular bedroom furniture in black Walnut, pics in the next update. Recent commissions include an Oak settle and an oval dining-table with a bar billiards type game in the base. The realisation of a large Sphelix is getting closer.
Shelley Mania has gripped Pewsey as Shelley Rudman won a silver medal in the Skeleton Bob. She was brilliant and everyone in Pewsey went nuts. We are preparing for the open top bus parade next Saturday. The Olympics has been a laugh with the Snowboard FX being by far the best TV event. The women's final was hilarious. Is Finland the new Germany in the ice hockey? T'Moo Solano is the man and might pick up the Golden Puck if he keeps his teeth. The worst event is the double luuge – it's just so wrong. It's not surprising the Austrians are up the medal table; the coach has been white coated and after the early hours drugs raid the Austrian residence was busted for resembling a full time laboratory with blood transfusion kits and the whole works.
Swindon are having a better run and are climbing out of the relly zone. I feel a bit of a deserter as i've just joined Reading. Chelsea have just blown out against Buffy and despite his play acting Lionel Messi is the real deal and totally toasted del Horno.