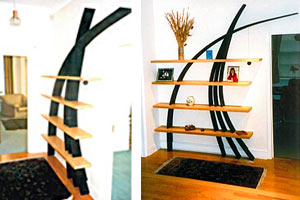 The Fishing Shelves made in Swiss Pear & Nextel available to commission in various materials & sizes for approx £1650 + VAT
2003 has not been a bad year for us, certainly an improvement on 2002. I am really looking forward to this year as I tend to fire up every 4 years into a higher level of productivity. We have some great and unusual commissions on at the moment: a Wavy Cherry shelf and cupboard unit, which is a progression of the curved laminate forms in the Fishing Shelves; a large throne-like library chair in Swiss Pear with some Ebony details; Lord Bath's ongoing entrance screen in carved Rippled Sycamore; a Deco style bedroom wardrobe to house a fine collection of serious frocks and Milano Blahniks
I have also put up The Sphelix as a kinetic monumental sculpture powered by the sun using photovoltaics for an international design competition for the Olympics called "The Monument Of The Immortals". I would be really chuffed if it is selected as the entry level is hot.
Swindon continue to yo-yo around in Div 2 but are on a good winning streak at the mo. Chelsea typically ate way too much turkey and stuffed a couple of easy games. A great touch on an old cocktail called a Moscow Mule (vodka, lime juice and ginger beer) is to give it a champagne float and call it an Ambromovich. On the subject of great cocktails, if anyone has a recommendation for their best "Sea View Bar" of 2003 please e mail it to me. The name derives from a truly great, scussy bar in a layby on the road between Orocobessa and OchieRios in Jamaica. We are all getting very excited about Euro 2004. To continue our Silver Anniversary celebrations we are all flying out to Portugal to watch a few games and give the lads our total support.
Happy New Year to y'all.