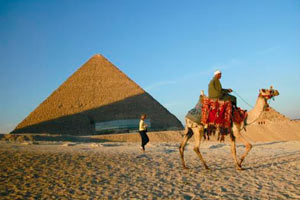 The Great Pyramid at Giza, Georgie and a Camel
Grayson Perry has stirred it up with his recent article in The Guardian about Arts and Crafts. The debate about the current value of crafts rages on. It was great to see two good current shows displaying top end work. Collect at the V & A and The Spirit of Liberty curated by Janice Blackburn.
However the problem of exhibiting bespoke modern furniture continues. Generalising there are 4 types of main shows going on at present; Top end shows like the 2 above, Celebration of Craftsmanship and Artifex (the top eclectic woody shows) 100% Design and Milan etc. for commercial work, and lastly a host of Craft fairs which have furniture in them. I have felt for a time now that most shows are an eclectic mix of pieces by the individual makers, which itself leads to a muddle leaving the public dazed and confused. I would rather see a show curated around avenues of styles with the emphasis on individual pieces, not the artists. The problem to resolve is how to avoid seeing a truly ubiquitous material used in so many different ways that, when put together in a show, create a big fluffy neapolitan ice cream. I am getting more and more motivated about it.
Our camel and chips holiday in Egypt was amazing. Their dexterity and brilliance at relief carving was stupendous but I felt that the modern Egyptians were being held back and slightly strangled by their old traditions. The many styles of pillars at the temple of Karnak was breathtaking. Lightning tours are all the range at the mo' with one week spent on The Ozzy Lentil Tour and a wild Irish weekend spent with Steve and some old mates on The Doktors Assistance Tour.
The footy has been mad, and mad again. Last night Arsenal crashed out with a GTP moan (gloves, tights and polos). The night before Chelsea v. Barcelona was in my top 5 games of all time. I am however speaking like a bitter and twisted punter as the sound of ripping Quad betting slips could be heard around the country after Chelsea's hopeless FA Cup performance against Newcastle. The mighty Town stutter towards the play-offs currently with 53 points. Highly flattered and laughable that Andy King gets the manager of the month.