Work is well under way for Betty Norbury's annual exhibition in Cheltenham, "A Celebration of Craftsmanship". It's in its 9th year and continues to be the best "woody" show around. I am showing my new Light Quivers, which are 7ft high cones of translucent veneer, set up on conical compression springs. The contained energy is released when you touch the cones and they quiver for about 5 minutes sending dancing shadows everywhere.
My other work is a fancy Desk & shelves in sharkskin blue sycamore & ebony and a Coffee Table with 4 springs as legs. I shall post up some pics and a review in the next update. For more details about the exhibition, hit www.celebrationofcraftsmanship.com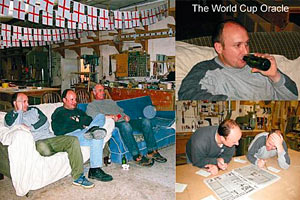 World Cup Madness

June was wiped out with World Cup Madness. We had some fantastic crack watching all the games. Truly depressing when we limped out in the quarterfinals. To go soft 4 minutes either side of half-time in unforgivable. Next stop Euro 2004 and I reckon it will be twice as tough. Italy and Spain with the hump, The Guezzy with home advantage, Turkey on a roll, The Gorange (Dutch) with something to prove, and the Tank, well I'm just so pleased they got beat. If you want our World Cup Loons you can click here. Lee was the deserved winner of The World Cup Oracle with 38 points, Johnny 33 points and Martyn 23 points..
.