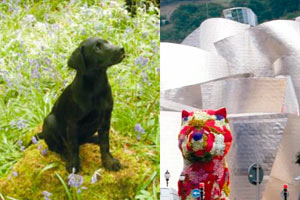 Sushi trying to suss out Jeff Koons floral K9 guarding Frank Gehry's Bilbou Museum
We are all crazy busy at the mo with some excellent new commissions. Summer is coming. The McKay Reception Desk is looking ace. The Credenza grain pattern in Crown Oak has worked out a treat and I will post a photo on the next update. We have recently changed ISP so I apologise to anyone who has had click and go problems and mail returned. My pieces for the Cheltenham show 20-28th August are Conio's Sculpture, a new Coffee Table called Slipe (slip and slope), a Poolside Loafer in aluminium and an abstract Garden Screen in neon acrylic.
Since turning 50 I seem to be going downhill fast. Body maintenance is a constant battle and I am being attacked on all sides. I was stretchered out of Stamford Bridge after Crystal Palace scored and spent a few days with a fluttering heart in Chelsea Hospital. My preference for the final ride is open cask with lift.
Lee and I have shared the Oracle Glory with 65 points each. Martyn scored 62 and I'm afraid Bill, with a paltry 41, never really surfaced from his long-term seasonal hump. There was a slanderous row with all the powerful Oracle Committee which even makes Schlebby Blatter look mild. Tip for the close season is get on Fergie to land the Sack Race @ 16/1. Glasgow temper meets Deliverance Swamp boys. Good odds and real fun if it all goes pop. Can't wait for the chanting and the Banjo's!!
It's embarrassing to be a Chelsea fan at the mo'. It's like a dirty shower. I wish they would question the Special One on his transfer strategy. So far it's 1x Dog @ 23mil, 1x Smurf (Kezman) @ 12 mil and 2x botched deals (Cole and Gerard). Still it's beyond cute when Arsenal do a front line welch and then try to wear the halo. Remember George "the bung" Graham. Yeah right. I am getting a lot of stick at the mo, all coming from green eyes. P.S Go and see Sin City, it is fab, original, extreme and a total gas.