Jan & Feb are usually a good time for some speculative Designs, model making and exploring new techniques. Not a chance, our feet haven't touched the ground since the New Year's hangover wore off. Always a good thing to be busy but I have missed some Research and Development.
The Rosewood Dining Table was well received, Martyn has fashioned a rotted Cedar root into a garden table and Lee has been involved in a solid Maple Shaker style set of furniture. However the workshop's main effort has been a most unusual kitchen. The theme is "Boxes of Fish" as it's for a kitchen by the sea shore. The doors appear to have boxes thrown into them which decrease to a vanishing/perspective point. Linked with constructional elements decorated in pebbles which are applied by Scan & Go, it all adds up to a visual blast. We are fitting it next week and you'll hear the reaction plus picture in the next update on May 7th.
God Bless Sven, I may even rent a Volvo! I went with 2 mates to see England v Spain at Villa Park and was treated to a 3-0 victory. It's a long way to Seoul in 2002 but at least we looked half decent and yer man understands tactics and doesn't have a mullet.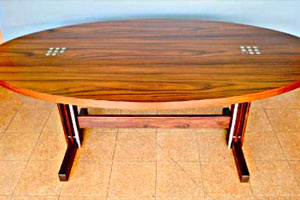 The White House Dining Table
Rosewood & Stainless Steel
200 x 106 x 76 cms high