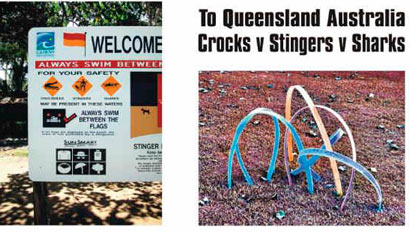 Irukandji The Killer Jellyfish Thoughts of War and Missiles
Work is still a bit thin but is better than it has been. My on-going efforts with The Sphelix received a boost recently when I worked for a couple of days in a plastics R&D laboratory allied to the world's largest chemical company. They made up some special urethane formulations for me and it was grand to don the white coat and goggles and play at being a techy boffin. My sincere thanks to Ian Lynam and his team. The light cones are going well and I'm putting together some better sales blurb. The latest oracle scores are Bill 27, Johnny 25, Lee 21, Charlie 17, and the current holder, Martyn 15.
What's the story with the Irukandji? Georgie and I had a fab week's hols in Queensland, Australia. It's a beautiful place but be warned, the sea is like a war zone. Think of the final shoot out in The Good, The Bad and The Ugly and that's about the level. The Irukandji are a relatively new type of minute jellyfish or stinger. They are the size of your fingernail, transparent and the sting is sometimes fatal. Quoting The Age magazine, "It's not unusual for victims to rate the pain at it's worse as 15 to 20 on a scale of one to 10. Some say they'd gladly end their lives to escape it." It was very frustrating being on a beautiful beach with a warm sea and not beeing able to go in. 25% of the hits/stings occur inside the so-called safety netting!!
There seems no solution to war in Iraq. It's all so desperate and I just wish that all the fundamentalists out there, whatever faith or creed, would just accept that there are sometimes alternatives to their rigid thinking. Fundamentalism = Black Hole = Analism!! There's a shocking line in The Matrix about humans behaving in the same way as a virus. We are trying hard to make that true.
Zidane's trap and scissor pass to Roberto Carlos, leading to Raul's opening goal in last nights Champion Leagues clash v AC Milan was just breathtaking. Madrid went through the worlds two best centre halves like butter. Back to reality, Swindon went down to Cheltenham (bottom of the table) 3-0.