It has been truly full on since March. The Cedar Root Table (pictured below) looked great although we had quite a job delivering the 2-metre diameter glass top.
Martyn and Lee went to Cornwall last week to fit the slate for the Boxes of Fish Kitchen, only to find it a mile out from the templates. It all had to be sent back to the quarry. It felt like Comic Relief and a bloody Red Nose Day. However the perspective doors look great and there should be a picture in the next diary.
Sven is still the man, having squeezed a max 6 points. I still think Andy Coles dodgy but we seem on the right track. The workshop backed Galileo for "The Derby" in the hope of recouping our disastrous punt on Swindon to win Division 2. They are doing their damndest to be relegated to Division 3.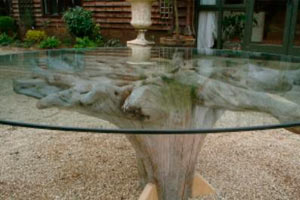 The Cedar Root Table
200 cms diameter x 71 cms high