The Reception Desk at Pearlfisher looks great and we are working on another Reception Desk for a property company in Reading. I am busy making some exhibition work which I will show in Cheltenham: a desk and shelf unit in sharkskin blue Sycamore and Ebony, new Light Quivers and a quivering Coffee Table. More news on that at the next update.
My latest project is making a 3ft diameter sphere in polyethylene foam. As the pic below shows, it produces the most beautiful swarf we have ever seen. When I have finished the sphere I'll be trying to make it into a Sphelix - active leisure and loafing furniture with each side of the Sphelix acting as a chair or rest which can then be rolled together.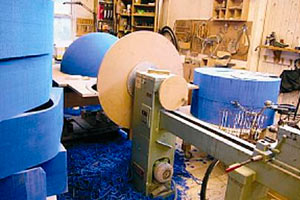 Blueworld Sphelix Ball

We have had 2 crop circles so far in oilseed rape. However the main excitement by far is The World Cup. We have got in the sofa, large TV, a tanker-full of beer, rockets, bunting and the whole bit. With kick off only 11 days away, it's full on excitement. We have endless bets running as the tournament progresses but the great honour lies in winning the Super 6 Oracle Cup. On each game we predict the result, double result, correct score, first and last goal scorer and number of cards. We should see most of the 64 games so let the opus begin. Latest thoughts are: I reckon Brazil will come good and Spain will choke again. Maybe the Azzurri Blues as they have a soft side of the draw. If we can beat Sweden and win the group, we could make the semis and maybe beyond.
.