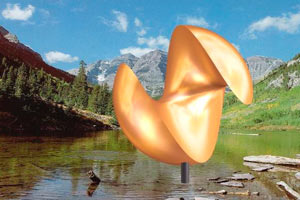 A Rotating 3 metre Half Sphelix Sculpture
It's a CAD visualisation but I'm very hopeful to receive a commission to make a Sphelix like this. Since September last year I have been working on The Sphelix, creating various CAD visualisations and models demonstrating the use of the shape for Art, Architecture and various products. I am hopeful that this year should see its fruition in some of these areas.
Work, I am pleased to say, has picked up since the lull of the New Year. We have some fine commissions on and doing the furniture for a Nightclub in Battersea has helped pay the bills.
The footy season is nearly gone as are Real Madrid's Champions League efforts with my £50 at 3/1. Still, I'm holding a nice 12/1 voucher on Refuse to Bend for The Derby. There have been 4 crop circles so far this year. If you are keen, I suggest you hit www.cropcircleconnector.com & surf it through.
In October this year we will be celebrating that my company has been going 25 years. I remember setting it up in 1977 with Geoff Rose as a skateboard company called Looner Landskates Ltd. It has been and still is, an interesting journey and to kick off the celebrations, we are all going for a day on the lash to Alton Towers. Looking over the drop of Oblivion or flying in Air should accentuate some of the feelings we've all gone through. The line up is Me, Georgie, Martin, Lee, Mike & Pam and I should have some piccies for the next update.