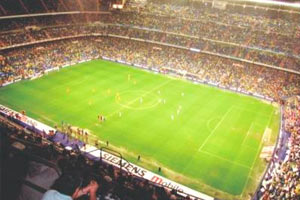 Bernabeu Stadium Real Madrid v Valencia
Those 22 dots on the grass cost over half a billion (give or take a few mill). They are certainly not worth it but the joy they give to us fans really is worth it, Footy Fever is raging here as we count down to Portugal. Please don't call me in early June as I will be residing with mates in a tent close to the action in Lisbon. Make some loot by backing Terry Henry 6/1 to win the Golden Boot. The 2003-2004 Oracle has been spectacularly won by Charlie, a huge well done after a tight season. The final points were Charlie 71, Bill 67 Johnny 64, Martyn 63, Lee 51. Swindon's luck ran out in the second leg of the playoffs v Brighton. A last gasp goal by the Gulls in the dying seconds followed by a 4-3 penalty failure.
The Four Goats with Georgie have safely returned from their walk on The Great Wall of China. Steeper and tougher than expected plus truly schlop food, they prevailed and had a great time. The walk was for the Dyslexia Charity and with their fellow 20 walkers raised a cool £100k. A fantastic feat and a brilliant well done.
We are making some great commissions at the moment, especially a curved sculptural shelf unit in cherry. Unfortunately my airbed to facilitate machining the 36inch diameter Sphelix has suffered a setback and it's a full reload with a different system. The light cones and Irie Garden furniture are on a role selling well. My exhibition pieces for Betty Norbury's Show are a decorative Shelf unit @ £2145, A solar panel kinetic Coffee table @ £1965 and some large and small Light Cones.