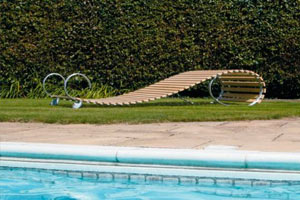 Poolside Loafer in beech and aluminium


I have bought a bending machine and am busy making a new range of bent aluminium and beech garden furniture. The work for Lord Bath looks amazing and I swear the log of rippled sycamore is the best we have ever seen.
I have commissioned David Hagelthorn to create the Oracle website. It is looking good and I am now hopeful of licensing the game into its 3 environments.
Betty's show in Cheltenham was its usual high standard and my best of show was a trilogy of waveform cupboards and a slick bowl by Nico.
Swindon have fallen through the trapdoor. Rock bottom of the Division with only 7 points so far and 8 straight losses in a row. No wonder Andy King was pushed onto his sword. As Swindon dive bomb, Chelsea rise and rise. I'm firmly with Martin Samuel that the Swede should go but at least the game against Poland looked more promising. Lee is currently leading the workshop Oracle with 15 points.