A partner's style desk in Burr Oak, Walnut and Ebony Balls. An exciting commission for a fine lady who wanted a laptop and printer hidden within the 2 outside top drawers. I had a free hand in the design and it was a joy to work on.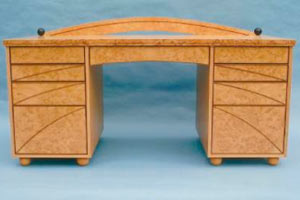 The Celebration of Craftsmanship show at Cheltenham was excellent. People reacted strongly to my quivering sculpture, continually touching it. Betty Norbury, the organiser, put on an ace show as ever and I sold a Spinal Chair. We are busy finishing off a tricentre table in London Plane for 100% Design. I am on my usual stand D4, sharp left from the entrance and at the top of the second row. So come on down and check it out.

The football gets better and better. Giving Germany a 5-1 thrashing helped erase memories of Waddle's blaze to row Z and Southgate's horror penalty. Unfortunately Lee has scuppered his back by undoing an Oak unit but more likely cheering too energetically Owen's superb hat trick. It's all systems go for Seoul and I'm taking some of the kids up to Old Trafford to watch us take out Greece. Saw the Irish Champion Stakes on Saturday and what a race, two great horses.